I'm still pregnant. YAY! (please sense the sarcasm). I'm seriously considering planting that apple tree Katie gave us, you know, to induce labor. I'm just too chicken shit. Anyway, I have theoretically 10 more days to go and I'll resist, even if the fucking heartburn hasn't subsided, even if I'm all fat and swollen and I can't sleep well, even if I'm impatient like hell to hold Santiago.
The reasons I've been off the blog for a while are all worthy and let me get started:
1. The flea market:
Last Sunday my dear friend Chiara came over from Milan with a suitcase full of handmade scarves, Japanese silks and vintage kimonos and we joined the local flea market. It was a chilly day, business was scant, but we had fun and a god experience. I sold one of my make-up bags, one of my vintage tea-cup candles and one of my furoshikis. The whole thing prompted me to finally open my etsy shop as you can see.
2. Gestation:
I'm 10 days away from my expected delivery date, and the exhaustion is at top levels. I cannot climb a flight of stairs without verging on a heart attack. I'm HUGE so I refuse to post a picture of my fat self over here. I'd rather have you remember me as a hawt bitch. You'll have to trust me. I'm guessing the first photo you'll see of me will be one of me holding my baby, and probably my three chins won't be in it.
3. Damiano: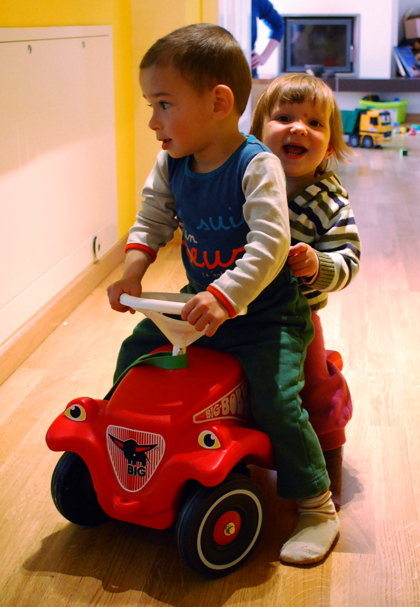 Here he is taking Norah for a ride on the Bobby car. Norah's daddy is polishing his lupara as we speak.