well well well of course I've been forsaking my blog lately and have very good excuses, for instance lots to do. That's true, when I had to run after Damiano all day long, all I could do was idle away those few moments of freedom I had. Now with more consistent chunks of the day all to myself, I'm trying to make something useful of them. And yes, blogging often doesn't count.
Damiano is loving kindergarten so much, he's so happy there, he's growing so fast, my sweetie pie. He is an angel, he's funny and I do miss him a lot, although I also enjoy my new found freedom. Lately his speech has exploded and it's extremely funny to listen to his constant chit-chat. It's also very funny how he pronounces certain things, like car (caRRR), grocery store (gossy so), post office (pot ophish), flying field (fafa), breakfast (beska)… also, have I told you how he's obsessed by cars? He knows nearly every brand and make of cars there is. And each one is associated with a person, who owns each car. So grampa's car is emdouble-u, Davide's car is Toyouta, Leah's car is an Olvo, Paolo's car is an Alfa, sometimes an Alpa. And so on. Well, yesterday we found a little car among the junk in the basement, and as soon as I handed it to Damiano he cried: "FFFFolkswageeen!!!!" and then, with his mouth very close to the little door: "MAnueeeeL!!! COOooomeeee!!!" Yes because Manuel has a Volkswagen so he also lives in the miniature Beetle in our basement clutter.
What else? oh yes well, in a month I'll be turning 29 years old and OMG, that means that in 13 months I'll be 30. I had promised suggestions on fantastic gifts that you could get me but in the end I realized that I have everything. Yes it is true I'm skint, but there's nothing I really need. Besides a lot of money, of course. If you insist, I would love a subscription to Ottobre design and/or a house by the beach in Saint Tropez.
Anyhoo, besides my work as a full-time mum right now my next challenge is to prove that one can learn perfect German in 3 months, or at least give an exam that suggests so. It's a real challenge because I'm at that point on the learning curve where each little improvement costs me a big effort. We'll see how that goes. In the meantime we're enjoying this summery autumn start.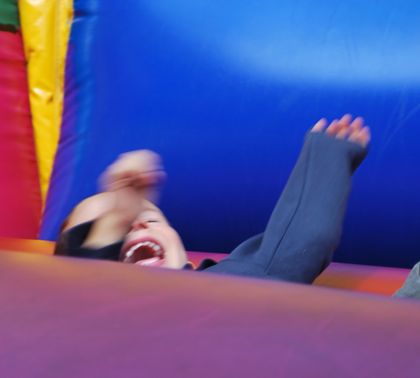 Fun at the bouncy castle.