A curious person asked me a 63 million dollar question. And now I'm restless. What will I do after this job at Perkin Elmer?
During the trip back home I thought about that question, and I thought about my answer. In 30 minutes I went through the past year, I went through my life choices, like studying economics without any real interest in it, never having the guts to change and to risk and to fail.
Now, even if it's slightly late, I understood that I'm not following tracks. I'm just living.
Positive thoughts bring positive thoughts.
Work has been boring but every day more bearable… I suppose it was normal to despise it so badly, and it's normal to get used to it and, even enjoy it… ok, I'm overemphasizing. But what I mean is that I start enjoying the money I'm saving. I made new plans, and plans keep me alive.
Working on something in which I don't believe is a burden, but working for the wages can save the whole deal, as long as there is a higher goal to reach.
Last weekend was great, I spent it in complete peacefulness and enjoyment, at home, taking care of myself and my adored husband. We went to the open- air market on saturday, bought great tomatoes and smoked buffalo mozzarella, we bought a great t-bone that we ate on sunday evening, and shrimp that we cooked like my grandmother Mina taught me to.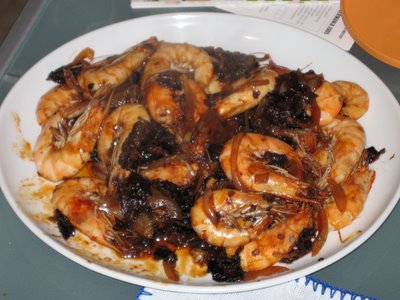 We saw a really funny and sweet movie, Kitano's Kikujiro. I fell asleep, but I enjoyed the part of it I saw. I was just a bit stoned.
We also tried to wash my car, but too many people had the same idea, and we didn't want to waste hours on the line of the car-wash.
I ended captive of a perfume clerk in a department store. I wanted a gift for my mother-in-law's birthday, and I ended up buying a perfume, a shower gel and a night cream. I became aware right away of the fact that she would have succeeded in her attempt to make me spend as much as possible. It's her job, and she was nice and she had flawless makeup: she deserved to sell. So I didn't fought against her, I gave up right away, accepting each and every one of her suggestions. My skin does need a total renewal after all, doesn't it?
I had a long and deep conversation with an old friend of mine whom I haven't seen in long long time, maybe 10 years. It's amazing how time flows and suddenly I realize how I've grown up.
This weekend, instead, was so longed for. And today, it's almost over.
(I think that the secret of life is to develop far hindsight in order to be more confident of the future and never leave curiosity behind.)
Waiting for the Barbarians, 1863
Konstantinos Kavafis
What are we waiting for, assembled in the forum?
The barbarians are to arrive today.
Why such inaction in the Senate?
Why do the Senators sit and pass no laws?
Because the barbarians are to arrive today.
What laws can the Senators pass any more?
When the barbarians come they will make the laws.
Why did our emperor wake up so early,
and sits at the greatest gate of the city,
on the throne, solemn, wearing the crown?
Because the barbarians are to arrive today.
And the emperor waits to receive
their chief. Indeed he has prepared
to give him a scroll. Therein he inscribed
many titles and names of honor.
Why have our two consuls and the praetors come out
today in their red, embroidered togas;
why do they wear amethyst-studded bracelets,
and rings with brilliant, glittering emeralds;
why are they carrying costly canes today,
wonderfully carved with silver and gold?
Because the barbarians are to arrive today,
and such things dazzle the barbarians.
Why don't the worthy orators come as always
to make their speeches, to have their say?
Because the barbarians are to arrive today;
and they get bored with eloquence and orations.
Why all of a sudden this unrest
and confusion. (How solemn the faces have become).
Why are the streets and squares clearing quickly,
and all return to their homes, so deep in thought?
Because night is here but the barbarians have not come.
And some people arrived from the borders,
and said that there are no longer any barbarians.
And now what shall become of us without any barbarians?
Those people were some kind of solution.