When I was little I was obsessed with pens, note pads, stickers, tape etc, and I owned several and very diverse pencil cases. I still can't go by a stationery shop without going in. Anyway, a year after I first thought of it (today I managed to start and finish a project within 4 hours, and that is awesome), now I have my very own, custom made designer's pencil case. The orange elastic was a find during my London strolls. The material is a linen herringbone canvas that I found in an art store in Munich three or four years ago, and I use it only in very special projects because it cost the earth.
Between the layers I put some very thin bating, to give it structure and to somehow protect my pencils and things (next time I'd use something thicker); also inside there is one Ikea chopping board, of the thin flexible kind, cut in half. It's a chopping board soul.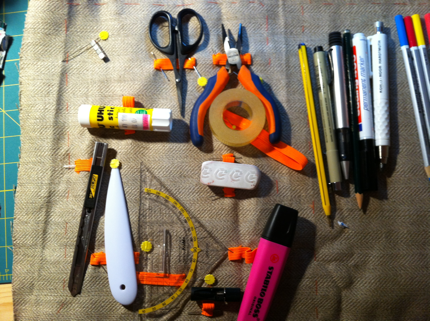 I played with bits of elastic and pins to decide how to arrange my stuff in the case.
One section of the pencil case is magnetic (top left in the image above). Three very powerful magnets are kept in place by some very nifty bookbinding tape. In the front 3 stitched squares indicate where the magnets are. I didn't sew the magnets in pockets because they are so strong that they stick to the sewing machine's presser foot making it impossible to sew. The tape works fine and in the end it will be  sandwiched inside.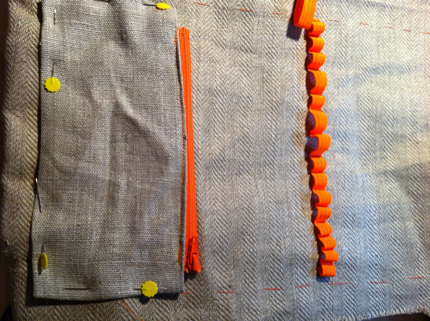 On the right side, there are loops to keep pencils and pens in place and a zippered pocket for pen drives and random stuff.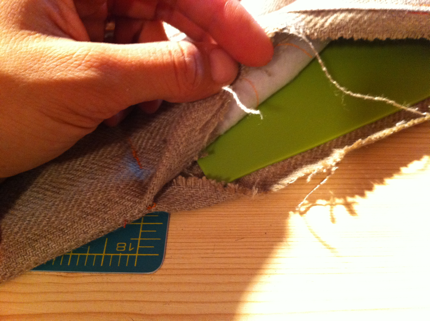 Sewing the back and inserting the chopping board souls in both sides.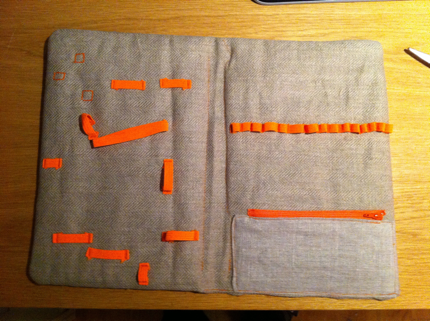 Here it is, finished and empty.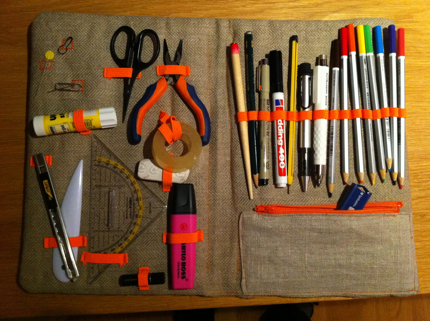 ahh there. Everything in place.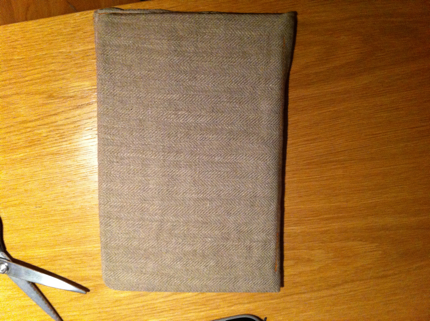 Folded. Tomorrow I'll buy a very long and very orange zipper and it will be perfect. But for now, it's great.