Let's cut to the chase:
Bake a LARGE sheet cake.
I used the biggest roasting pan that I could fit in my oven. I also measured the inside of my fridge and I cut a board just as big, to keep the cake cold until serving it and I wrapped it in freezer paper.
I used Nick Malgieri's recipe for a Whipped Cream Cake from this book.  It was a very good choice because it's moist and dense at the same time, and very easy to maneuver, slice and put together.
Cut one large rectangle, around 14″ x 10″ for the body and another one 12″ x 5″ for the head.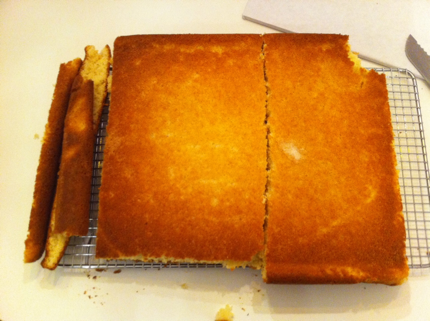 With the rest, cut out arms and feet (or wheels or what have you). Keep the edges for breakfast.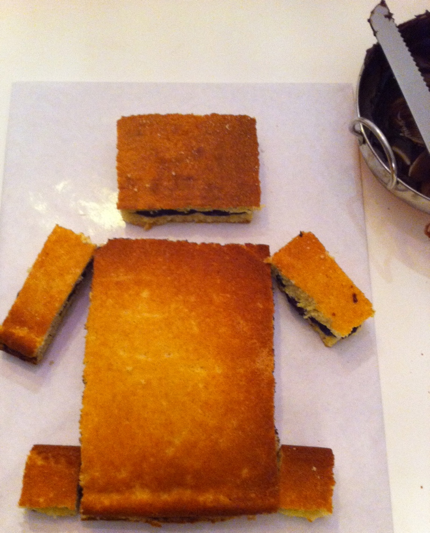 I sliced the pieces in half and filled with chocolate ganache.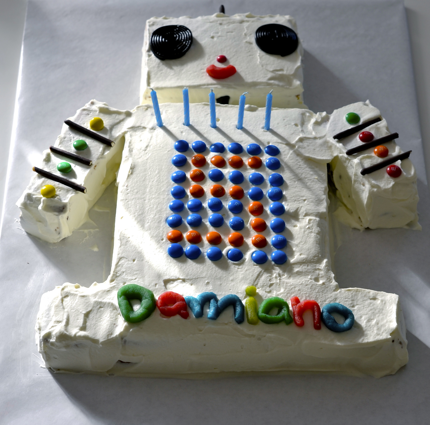 Then I frosted the whole thing with slightly sweetened whipped cream. The letters are made of colored marzipan, and the decorations are mainly m&m's and the eyes are licorice wheels.
I thought it was a cool cake, but I would have sworn that the kids wouldn't eat it. Especially when I started slicing it and it felt hard as a brick. But…
It was really delicious! and the kids loved it. They all wanted slices with m&m's (next time one could forgo all the trouble of making the shape and serving a round cake covered in them).
From now on this whipped cream cake with chocolate ganache and whipped cream will be my choice of birthday cake.