After 7 years I managed to go back to Berlin, and I had a perfect excuse to do it. The Typo conference is one of those things that the cool kids go to, all the designers and typographic heroes, including those whose fault it is that I got into this mess in the first place. So I indulged in a long weekend of design talks and I'm really lucky I could do it—I blame my amazing husband. Ok, here are some pictures: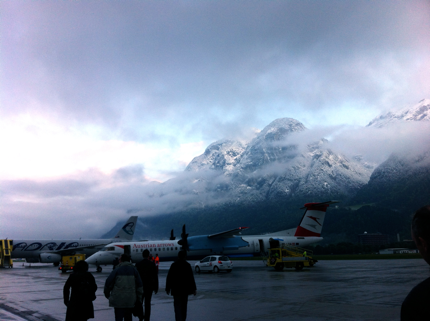 As I left Thursday morning from Innsbruck Airport. SNOW!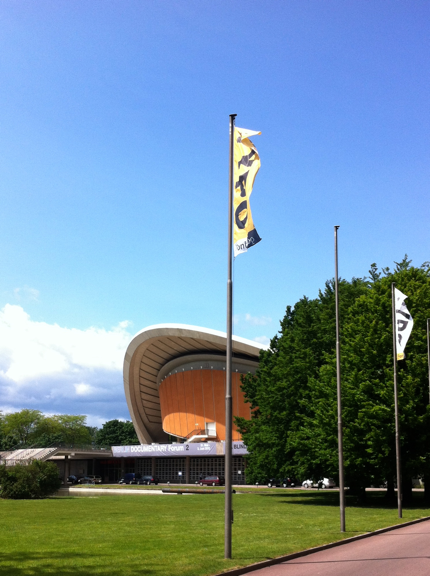 The house der Kulturen der Welt, where the conference took place.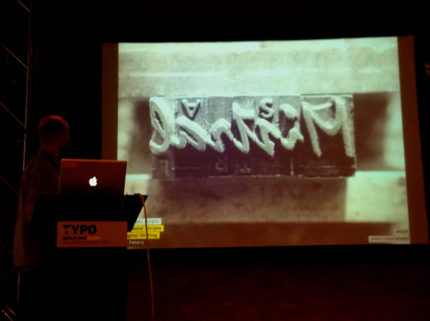 One of the first talks I attended, from
Yves Peters
, Belgium's finest dancer and typography writer. Open Type features + Scripts = type porn. Also, made me think I have to redesign this blog which has looked like this since 2007.
Ruedi Baur, you might remember when I went to Paris to shoot
this video here
. Well, he's the one who made me fall in love with the universe of wayfinding systems. His stuff is astonishing.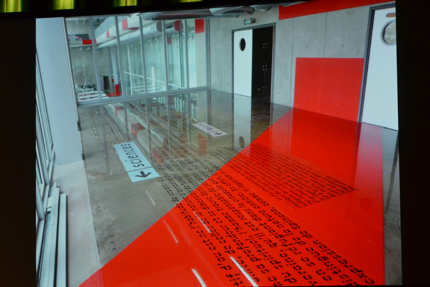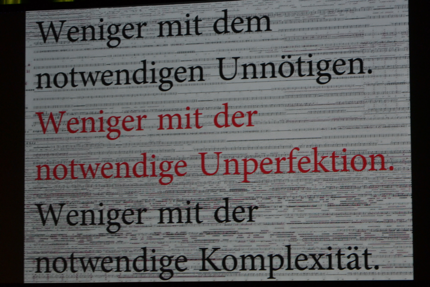 "Less with the necessary needless. Less with the necessary imperfection. Less with the necessary complexity".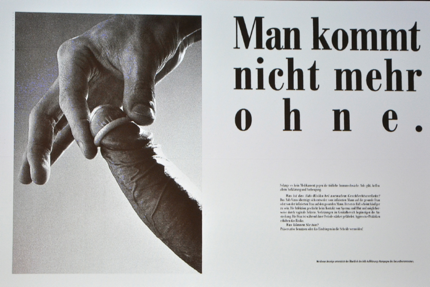 This was a superposter designed by Michael Schirner to promote the use of condoms in the times of the HIV epidemic. His talk was about art and design in advertising. It was entertaining but I'm always a bit uneasy about the boundaries between design, art and advertising.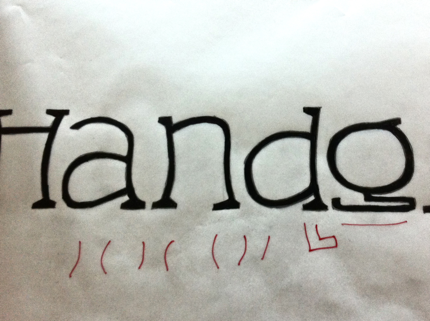 One of my favorite talks of the conference was by 2 of my typographic heroes, Paul van der Laan and Erik van Blockland and it was about the super fun TypeCooker. A random set of parameters to apply in drawing a font. Therapeutic and it really made the creative juices flow free. We were invited to hand in our drawings, which were then discussed on stage. I was so excited and I took a video of their critique of my monospaced-slab-serif-no-descenders-short-ascenders-flared-stems-one-ligature font. [I had *such* a great time drawing this, I will definitely develop it into something, perhaps my new uauage logo? yes, probably that]
I also won this jar of tipp ex and I was proud as a peacock.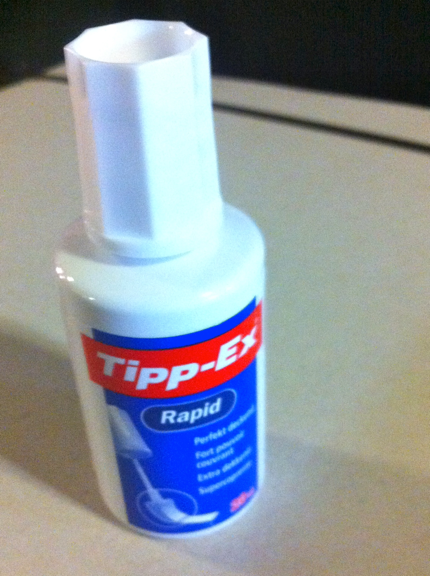 The main theme of the conference was sustainability and there were some very inspiring things out there: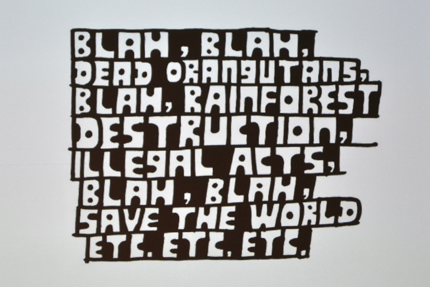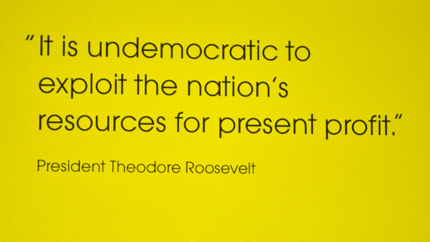 Ahhhh probably the best of the whole conference was this presentation by Andy Altman of Why Not Associates, about the Comedy Carpet Project in Blackpool (do yourself a favor and watch the video) which had the audience laughing hard and also clapping a lot. For me it was the whole new level of typesetting that was truly inspiring. And the saucy british humor.
[...] the Comedy Carpet is a celebration of British comedy on an extraordinary scale. The carpet gives visual form to jokes, songs and catchphrases dating from the early days of variety to the present. Sited in front of Blackpool Tower, the 2,200m² work of art contains over 160,000 granite letters embedded into concrete, pushing the boundaries of public art and typography to their limits. Why Not Associates co-founder Andy Altmann will present the sometimes not so funny story of the five year journey that led to it's creation.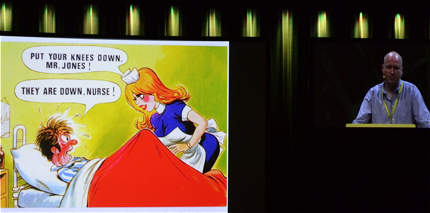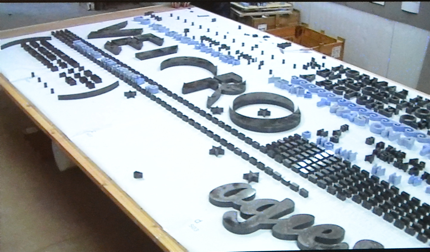 type setting. Like, really.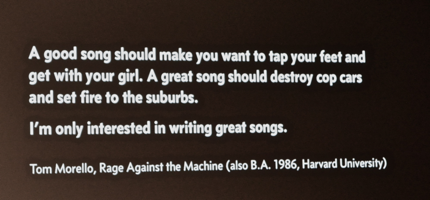 Matthew Butterick aka Typography for Lawyers did a great talk, in true American TV-preacher style about web typography, and though it was slightly OTT it was inspiring because it was about life and one's expectations and hard work as much as it was about web fonts. And now I really have to redesign this shoddy blog.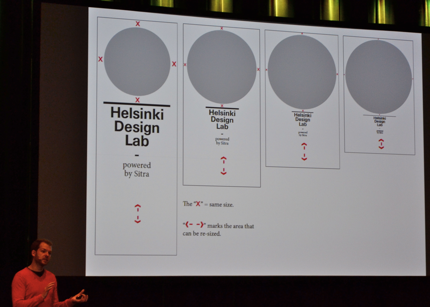 Lupi Asensio and Martin Lorenz of Twopoints.net showcased their work, and it was interesting to see how with potatoes, egg and onion you can either get tortilla de patata or kartoffelpuffer, all depending on the process you use, and how design is all about the process. I loved this design for the Helsinki Design Lab based on the idea of the common denominator (concept which, 6 years prior, Ruedi Baur used at the Beaubourg), and how they took inspiration for a visual identity of a somethingsomething in Jordan from the walls of common flatbed trucks in Amman.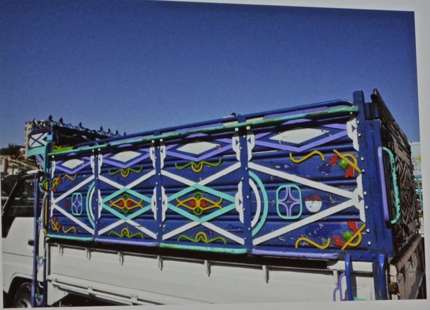 I didn't get to see much of berlin this time around and I have to say that DIN platz should've been Futura platz.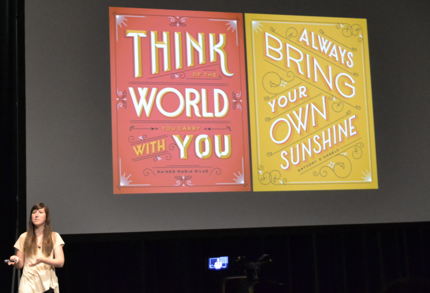 The closing talk of the conference was by Jessica Hische, who is a force of nature and in spite of her borderline annoying ultra american-ness, one cannot help but love her. And what she does is done with such passion and dedication it's truly inspiring.