Soooo…. I've got a ton of things to do and surprisingly a ton of enthusiasm, too.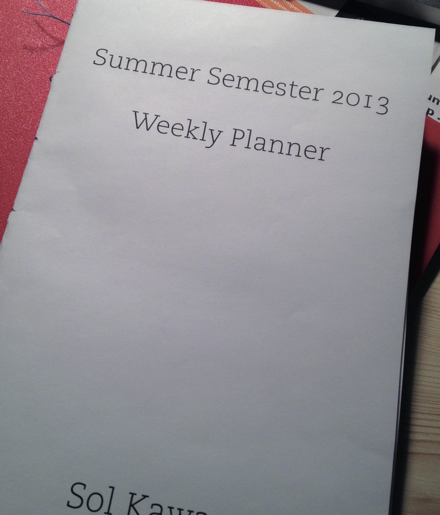 The new semester started and it's called SUMMER SEMESTER. That means winter will eventually end and the sun will shine on us. Don't get me wrong, I love winter, especially since I discovered my favorite thing in the world which is cross country skiing. But I'm still a depressive piece of work, so summer is very welcome. Also, this semester is awesome because I pretty much adore all the courses that I'm taking. It's very hard work and very hard fun.
I wanted to be prepared to hustle like a real nerd, so on the train ride this morning I whipped out a little weekly planner in inDesign. I printed it when I arrived at the uni, and I bound it just now. It's pretty banal, but it does the trick of having a lot of space to write ideas and stuff, and it's so simple and cheap that I don't have to worry too much about my awful handwriting, which makes me sad on those posh moleskines.
The design is pretty simple: It comprises the 19 weeks from next Monday until the end of the exam session. I used one of my favorite typefaces which is Caecilia, by Peter Noordzi. The signatures of the book are made of a single A3 sheet of paper, printed on one side. On every A5 quarter there is one week and the coptic stitch binding is done on the inside only, so the paper can be unfolded revealing a whole A3 blank space to work on.
I had never tried to bind a book using the coptic stitch method entirely by hand, so I tried and it worked pretty well.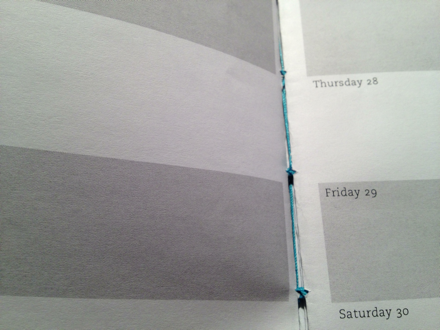 It's one of those things that give instant gratification.

If you want to try your hand at this lovely book-binding method I found this tutorial extremely good.